Media Mention and a New Look for the SMV
Jan 21st, 2011 | By
president
| Category:
Blog
Mention in the media:  The RAS skywatch scheduled for tonight, January 21, at the SMV was mentioned in an online news item at NBC 12 On Your Side.  Please join us and bring a scope if you can.  Dress warmly if you come, temperatures are expected to drop below freezing into the mid-twenties during the skywatch.
At the January meeting, Ken Wilson provided us with a great overview of astronomical phenomena to watch for this year.  The list of events he discussed is posted here.  Lots to watch out for this year.  Thanks to Ken for giving us a good heads up.  Due to the weather in early January, we had to postpone Sydney's talk about her new telescope, but hopefully she will be able to join us in February.
…
..
….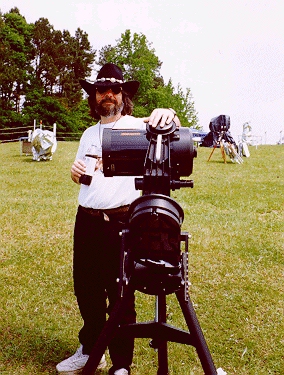 Rod Mollise: Those that have a Schmidt-Cassegrain telescope or frequent astronomy forums will likely recognize the name of Rod Mollise.  Rod is the author of, "Choosing and Using a Schmidt-Cassegrain Telescope: A Guide to Commercial SCTs and Maksutovs," which was updated, as I recall, not too long ago.  Rod is an active participant in a number of online forums and also writes, "Uncle Rod's Astro Blog".  The latest edition of his blog is a piece about belonging to an astronomy club and the social aspect of astronomy which struck a chord with me, as I enjoy observing with groups as well as the occasional solitary observing experience.  You might want to give his blog a read if you have not seen it.  Rod's perspectives are very insightful and he can turn a fair piece of prose.
…
New supernova: A new type 1a supernovae 2011B in NGC 2655 was discovered by Koichi Itagaki.  Earlier this week, it was at magnitude 12.9, which should be bright enough to capture with low-light video or long-exposure imaging, depending upon your aperture.  More information is here.  Those of us that do spectroscopy with simple in-line grating spectrometers or more complex systems might enjoy hunting this one down to capture a spectrum before it fades.
The Science Museum of Virginia has a beautiful new logo and a new look.  Be sure to check out their Facebook page to take a peek.  Later this month they will debut three new permanent exhibits – Science on a Sphere, the Watt Wall and Imagination Playground!  Definitely worth checking out.
…
…
And just for fun, those of us that do astrophotography might get a kick out of the YouTube video on the subject here.
Regards,
Jim Browder
Richmond Astronomical Society